A major part of our fund-raising effort for 2020 is being directed towards replacing our existing small meeting room through the purchase of this pre-owned handicapped accessible double wide school classroom in order to better serve and expand our existing recreational therapy programs.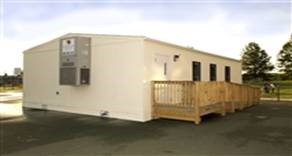 This is a below cost ($11,000) purchase agreement made with the Veterans Multi-Purpose Center by a former U.S. Marine. The facility, which will be located on our property in Groveland,FL, will provide a multi-use venue to serve Veterans and the community that will offer:
The new central office for the Veterans Multi-Purpose Center
A Mental health classroom for veterans and their families.
A Center for post deployment parenting and family readjustment classes
A Bunker for getaway weekend retreats for male Veterans, female Veterans and families
A Children's recreation hall; Birthday parties, entertainment, and weekend movies
A Meeting room for various Veterans Organizations and civic organizations
: We refer to this in our WISH LIST.

We recognize this wish is beyond our annual budget limits and it will no-doubt take some time before we can see the reality of it but, we will continue our efforts for as long as it takes.
How to donate:
By PayPal – credit card or e-check: http://vetsmpc.org/donate/
There is no cost, ever, to veterans or their families for services/benefits provided by VMPC.


This organization is a Bronze-level GuideStar Exchange participant, demonstrating its commitment to transparency: