A dusty barn and the musty smell of manure. Birds chatter among the rafters and horses nicker from stall to stall. Far from the chaos of a war zone or the bustle of the local VA medical center, Veterans participate in a non-traditional therapy program, Horses for Heroes.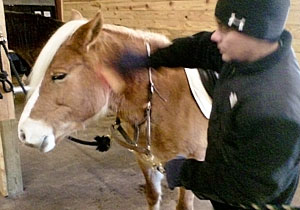 "I was somewhat intimidated by the horses at first. These animals are very big and I was pretty anxious being around them," admitted William, an Operation Iraqi Freedom Veteran and program participant. That wasn't the biggest challenge he faced in therapy, however.
"The hardest part of therapy is actually going," he said. "Often times I would think about calling and telling David [my instructor] that I wasn't coming. Once I got there, it was two hours of taking my mind off of everything and just focusing on learning new skills. That was what kept me going — knowing that after I got there it was worthwhile."
The Lexington VA Medical Center has partnered with Central Kentucky Riding for Hope (CKRH) therapeutic riding center to offer Veterans an alternative rehabilitation program — therapy that focuses on the close bond between horse and rider.
"The main focus of the program is addressing Veterans who have been diagnosed with Post-Traumatic Stress Disorder [PTSD] and Traumatic Brain Injury [TBI]," said Dr. Cynthia Dunn, a psychologist at the Lexington VA Medical Center. "The Veterans will tend to withdraw socially and lend themselves to isolating activities which will generally lead to concerns for suicidality."
Where social settings have the potential to be overwhelming, the Horses for Heroes program allows Veterans to work individually with a horse and therapist. Building a Veteran's confidence and relationship with the horse translates into skills that can be used in day-to-day life.
"Once I got there, it was two hours of taking my mind off of everything and just focusing on learning new skills."
Each therapy patient identifies their own goals for the program. The first day at the barn is spent getting acquainted with the horses.
"We determine what are the best horse and rider matches and what additional support they'll need," said Denise Spittler, Program Director at CKRH. "We know our horse herd; we know their personalities and we do try to match that to the needs of the Veteran."
For a Veteran struggling with anxiety attacks, as many PTSD sufferers do, a quiet, laid back horse is the best match. In addition to personalities, Spittler observes the riders' gait and how they perform non-mounted activities with the horse.
"I learned that these animals are so brilliant," William said. "They are a lot like humans. They all have different personalities.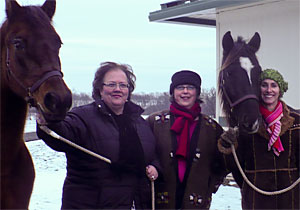 Cynthia Brown, LCSW, Cindy Robichaux, LCSW, and Karlynn White, Recreation Therapist, from the Lexington VA Medical Center visit the Central Kentucky Riding for Hope stables.
"Some seemed to not be bothered by anything — [my instructor] calls them bomb-proof. Others seem to be as anxious as me. I think that I am able to relate to the horses very well. They are feeling you out as you are feeling them out."
William progressed from learning how to groom and saddle a horse to cantering and going on trail rides in just six weeks. Program organizers hope that this progress continues beyond the 10-week program and invited the Veterans to return to CKRH and help out with future Horses for Heroes lessons.
The Lexington VA Medical Center and CKRH anticipate Veterans with a variety of therapy needs taking advantage of the program in the future.
"We will have two tracks," Spittler explained. "One focused on all non-mounted, equine-assisted psychotherapy, facilitated by an equine professional and licensed social worker. The second is a mounted program that is a therapeutic program, facilitated by a North American Riding Handicap instructor, with recreational therapist support."
Alternative Therapy
In Kentucky, riding and horses are a part of life, which is why program directors expect it to be an important factor in helping a Veteran return to their normal life.
"We're helping them to develop leisure skills, developing friendships," said Karlynn White, CTRS, Lexington VA recreation therapist in charge of program development. "Really, just getting people out of their homes and becoming active."
From the mental health perspective, Dr. Dunn agrees that breaking through PTSD symptoms of estrangement and detachment is an essential goal. Participants are asked to fill out surveys before and after the program to give doctors a better window into their mental state.
"We are predicting that their sense of hope will increase, which would mean that their level of depression will decrease through this activity," explained Dr. Dunn. "Once that decreases, we think we can engage them in therapy much better — and engage them in specific trauma therapy."
Program organizers at Lexington VA Medical Center are evaluating the effectiveness of the program and expanding the riding therapy to other facilities around the state. Next on the list is the Appalachian Foothills Therapeutic Equestrian Center in McKee, the original inspiration for Lexington VA's therapeutic riding project.
Judging by the high enrollment numbers for the Lexington VA kayaking recreational therapy program, Veterans appreciate the chance to combine their therapy with activities and socializing.
"I would like to encourage other Veterans having readjustment problems to try this program," said William. He admitted that asking for help was his "biggest problem." Enrolling in the equestrian therapy pilot program, William found a great supplement to his other group and individual therapy programs.
"We are all too often getting analyzed, counseled and medicated, which are important but this is something that gives us a hands-on approach to getting our lives back."